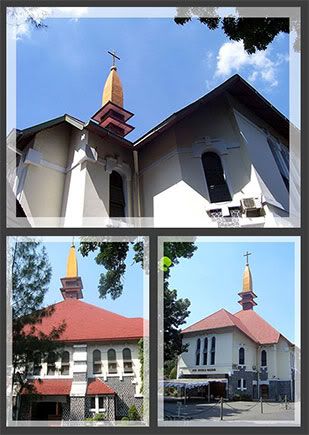 The building is located in the area of Tugu Muda, precisely on time. Soetomo said. Currently, the building consists of the Cathedral, and building schools (Bernadus elementary and junior Dominico Savio). A cathedral church in indukplants area diocese Agung Semarang, Central Java. The building is included in the category of protected historic buildings in the city of Semarang

The building is the Cathedral of the building with a symmetrical facade of the single-oriented architecture in the west. Complex of buildings designed quadrilateral with three entrances, each located in the West, South and North.


As is generally the Catholic Church was built before the Vatican Council II, the seating layout stretching to the back of the church. The foundation of the building made of stone wall with the structure of the system and shoulder room are free of columns. Some walls coated natural stone, until almost half a high building.

Construction is limasan mejemuk roof, which closed with tile. On top of the tower there limasan coated with the metal plate. There penebalan on the parapet wall and form. Teritisan quite wide. There is a veranda on the part of each Entrance. Dinaungi by this porch roof, which is the main building, and is not supported by columns or console. Entrance doors have a double-leaf form with a panel of thick wood. Lighting can be entered directly into the building.

At the Cathedral of the original location to be used as Dienst Voor Volks Gezeondheid or Health in the Dutch colonial era. In the year 1926 the land was then purchased by a church administrator. Since it is revamped office building into a Catholic church. Building and then be the position where the bishop.

Design building designed by Dutch architect J.Th.Van Oyen assisted konstruktor Kleiverde. Year 1937 was held restoration and expansion Cathedral, as stated in the letter of Bishop of Batavia on 20 December 1937 to Pater PC which serves as a temporary Kerk en-Armbestuur.

On August 9, Central Java inaugurated in 1940 as the Apostolic vikarist under the command of mgr. A. Soegijopranoto, S.J. as the first primate in Indonesia. Church has an official name of the Virgin Mary Queen of Santa Rosario then developed into the Holy Church Cathedral.

To achieve this Randusari Church cathedral is quite easy (see the map). If you know less Semarang, you can use the city transportation / microbus and city buses that pass through any area of Tugu Muda. When you depart from the Simpang Lima area of increased numbers please majors Karang Ayu - Penggaron, stop at the red light area of Tugu Muda. Church is located in the South Tugu Muda area.